TRAINING & PLACEMENT ACTIVITIES
IDEAS endeavours to enhance the professional competency of students. By establishing a strong link between theory and practice, augmenting the curriculum content making it relevant to the present technological environment, cultivating good communication skills and efficacy for team work and inculcating sound professional ethics. This provides the students with a definite skill set enabling them to enter the profession with confidence.
The Training and Placement Cell is active in its endeavour to enhance the professional competency of its students.
Career Guidance:
The cell brings awareness amongst the student about carrier options and jobs by highlighting articles on departmental notice boards regarding competitive and career opportunities and arranging motivational talks/personnel counseling/bridge courses as well as talks by experts from different fields.
Activities: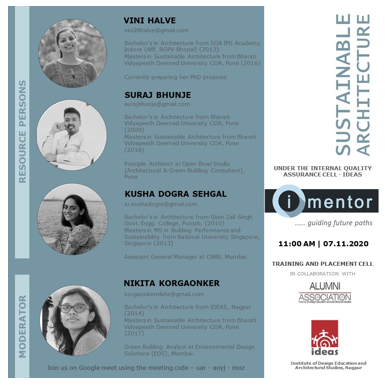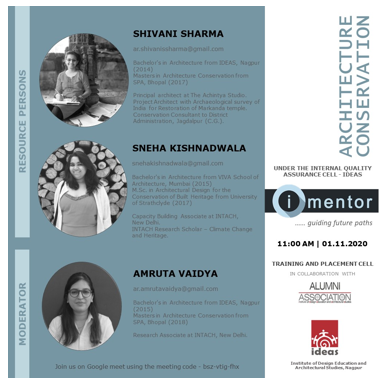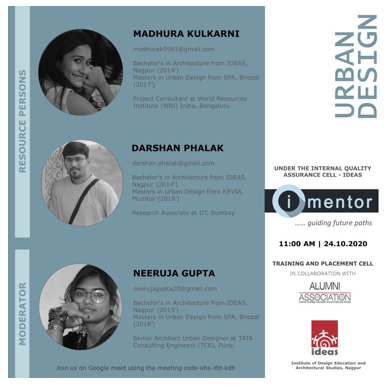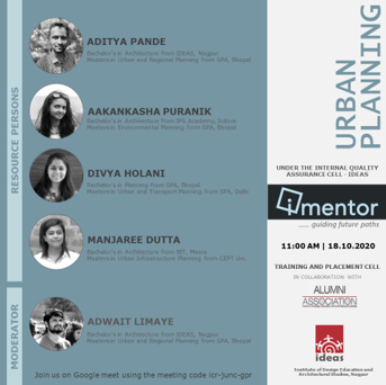 Training and Development:
The profession is always on the lookout for students who are vibrant, energetic individuals and ready to accept challenges, attentive, a good academic background, fast learners, open to learning even at work and more importantly having good communication skills. Keeping in view the professional requirements, the training curriculum is designed for preparing the students for entry-level Graduate Architecture Trainees.
---
Activities:
A guest lecture by Mr. Manoj Rathi (Associate Vice President, Head- Godrej U&Us) was held online on 13th February, Saturday at 4pm. The speaker shared his experience in the field and what new recruitees need to bring to the job.
---
Placement:
The placement in Architecture is usually done in the offices where the student receives practical training during Internship. Hence the placement cell communicates with organizations and professionals having a good standing in terms of professional services and also its alumni for available openings. The Cell invites organizations and firms for campus interviews, though it is presently providing guidance for start ups.
For architects/firms interested in recruiting students for internships / full-time job opportunities contact us here [email protected]