I CAN BE AN ARCHITECT 20 – 21st June 2020
IDEAS- Institute of Design Education & Architectural Studies, Nagpur organized an interesting WEBINAR specially for Parents & 12th students interested in selecting Architecture as career option.
The webinar was planned in three sessions to give an insight on education, admission process & profession of architecture .
The eminent speakers included Ar.Pushkar Kanvinde, Ar.Milind Kollegal, Ar.Nitin Sawalapurkar, Ar.Suresh Singh, Prof. Dr. Parag Narkhede, Prof. Dr. Anurag Kashyap with Prof. Abhay Purohit (Principal) , Prof. Uday Gadkari (Director) and Prof. Milind Gujarkar (HOD).
The event was moderated by Prof. Devendra Deshpande, Prof. Veepa Jariwala and Prof. Harshal Ganorkar from IDEAS.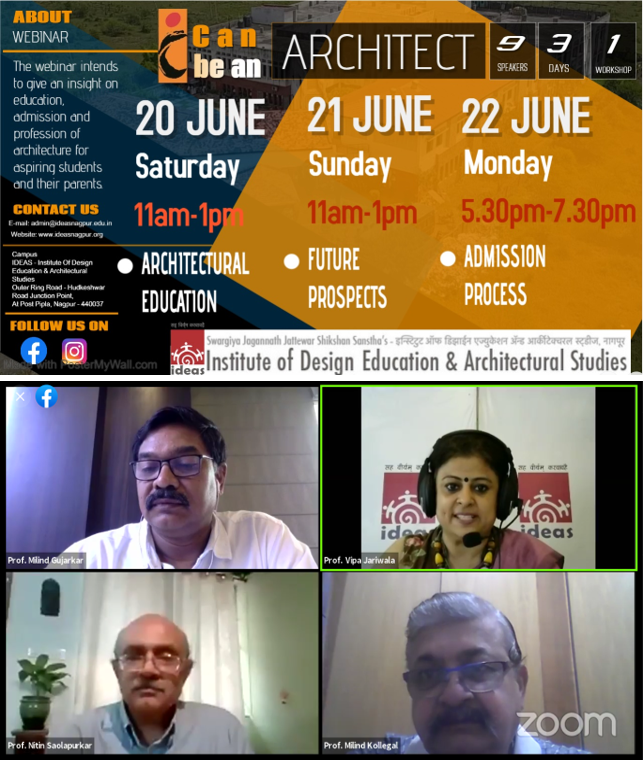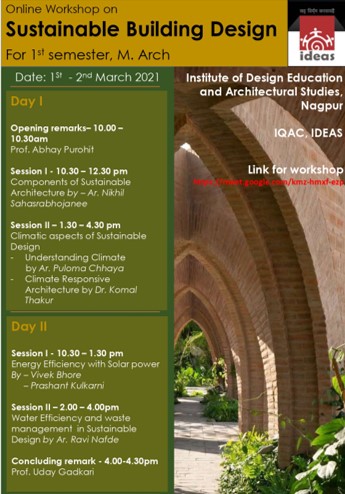 I CAN ONLINE WORKSHOP SERIES 28TH June – 7th July 2020
A series of Workshops was hosted Online for the Architectural Aspirants to prepare them for the world of Architecture as they waited for the admission process to begin.
The series included an introduction of Architecture followed by workshops on sketching, painting, logo design, doodling and other interesting topics.
TEACHING CLIMATE RESPONSIVE DESIGN APPROACH 28TH September – 2nd October 2020
IDEAS organized an Online Training Program in collaboration with Council of Architecture.