The Institute of Design Education and Architectural studies, Nagpur is proud of its alumni for the difference they are making in society. They are making huge contributions and adding value to the world with their expert knowledge.
The first batch of IDEAS, Nagpur passed out in 2014. Since then the family of alumni is growing year by year. The institute has always reached out to its alumni to extend support in their ventures and continue the process of knowledge sharing as a way of capacity building on both sides. It has signed MOUs with many of its pass-out for collaborations in holding workshops, seminars and working for societal change.
The creative minds and passionate architects passed from the Institute are not just limited to ethical and meaningful architectural practice, but few have marched ahead into various allied fields. Some are addressing the societal concerns with their humanitarian approach. To promote the cause of progress, development and welfare of their alma mater. IDEAS Alumni Association (IAA) was constituted. The Association has filed for registration under the Societies Registration Act of 1860, which is in progress. Since then, the association has conducted various events on varied platforms, where one of the important mottos is to educate students and help them out in different sectors of architecture. The association has collaborated with numerous significant personals in past and is looking forward to organizing multiple beneficial events for society.

 GUIDANCE
The growing alumni community is always keen to give back to its alma mater. They form a strong knowledge bank of resource persons in guiding the students about various subjects, career options and also helping in the organization of workshops and seminars. A few have returned to the fold as teachers too.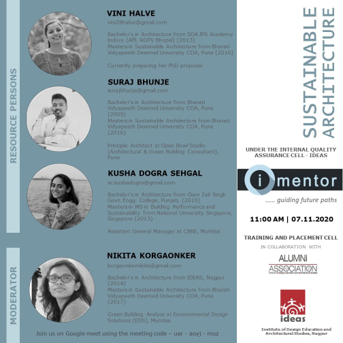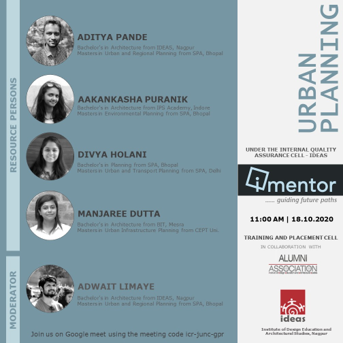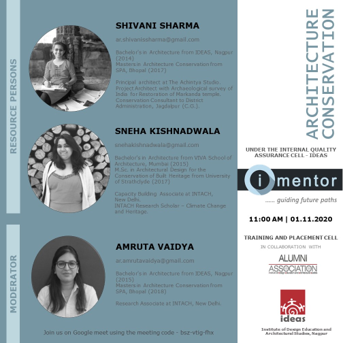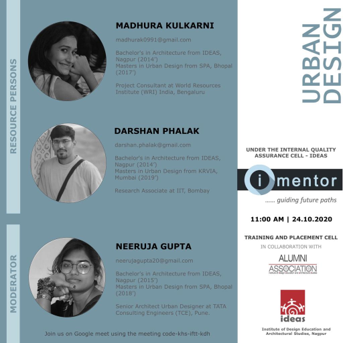 MOUs
The institute has also signed several MOUs with its Alumni by being a platform for the mutual benefits to its alumni and its students on campus.
IDEAS had carried out a construction of Bamboo Bihan Market in association with Local Administration, Kondagaon, local artisans and the students at IDEAS. The whole event was coordinated by our alumni of 2012, Ar. Nisha Bothra (Ochre36).
Another joint venture is Nagpur Tales, heritage walks, carried out twice in a month with our alumni of 2010 batch, Ar, Sandeep Pathe (Studio Sakha) that creates heritage awareness amongst people participating.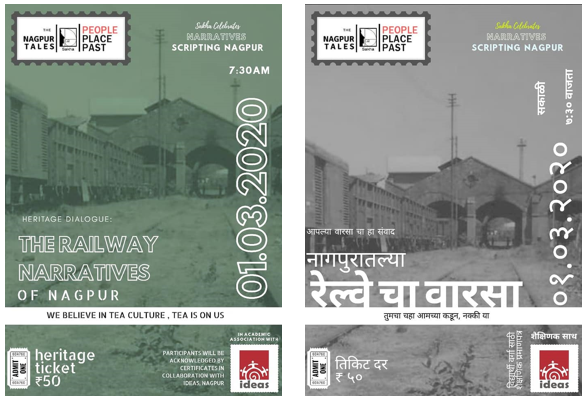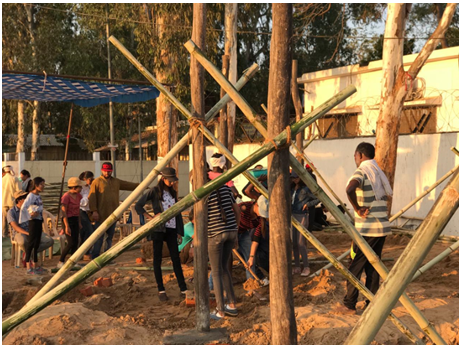 ---
PLACEMENT ASSISTANCE
Being a small institute with a very close knit community of students and alumni, our alumni have played a significant role in placements of students on campus for their internships. They are now working with the Training and Placement cell to formalize this process.
For alumni interested in recruiting students for internships / full-time job opportunities please contact at